Volkswagen Auto Service & Repair in Marion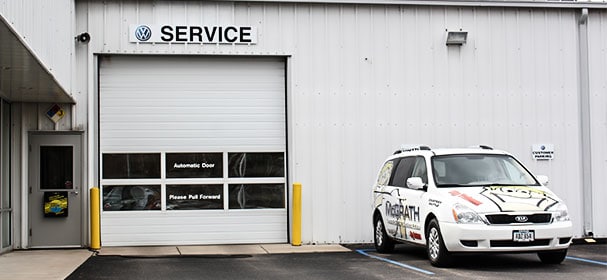 We Can Help You Take Care of Your Volkswagen
We all want to get the most out of our vehicles. After all, we've invested so much in them and really depend on them a lot. Fortunately, it can be easy to care for your new Volkswagen car or SUV if you take advantage of our help. At McGrath Volkswagen of Marion, we have a service department staffed by highly trained and knowledgeable professionals. The quality of our work shines through in all that we do, and we make sure that our customers are satisfied.
Routine Maintenance
Visiting us on a regular basis is one of the most important things you can do to extend the lifespan of your Cedar Falls Volkswagen. Oil changes can ensure that your engine's components don't experience unnecessary wear. Other maintenance tasks like fluid replacements, filter replacements and tire rotations can go a long way in keeping everything running properly. All these tasks can keep you safe as well. Each model has recommended maintenance schedules, which you can find in your owner's manual. During tune-ups, we can take a look under the hood and around your tires to see if we can catch any minor issues before they turn into major problems outside Waterloo.
At Your Service
As you drive around Iowa City, you might start to notice certain issues. Perhaps your engine light has come on suddenly, or maybe you're noticing a difference in how your Volkswagen brakes, accelerates or turns. Whatever it is, remember that we're a trusted local resource. Our technicians will be able to diagnose the problem and present you with a solution. Sometimes, there may be more than one solution. We'll walk you through the options so that you can make an informed decision.
We're always happy to speak with prospective customers in the Cedar Rapids area. Please give us a call with any questions or if you'd like to schedule an appointment at our service center at McGrath Volkswagen of Marion. If you're interested in picking up some new Volkswagen parts or accessories, don't hesitate to call our parts specialists.